"One event I have really missed getting to host is Live Music Sundays.  Sharing the same space with other humans-- some friends, some strangers-- all experiencing the same vibrations at the same moment in time is incomparable.  It is magic.  One Sunday in particular pretty much sums up the magic of Indigo's impact on the lives of young people. 
This particular Sunday, our scheduled musician called in sick the day of the event.  So (lucky that I'm a musician as well) I filled the spot for the evening.  I dragged my piano-playing partner along with me that night to accompany my vocals and we would do what we do best: make music together on a moment's notice, and maybe (at best), entertain some folks.  The crowd started off pretty mellow, until a grandmother walked in with what appeared to be her two granddaughters.  They were immediately enchanted by the sounds of Carole King and Billie Holiday coming from the back of the store and zoomed in to take a closer listen.  The older of the two quickly became fascinated by our djembe in the corner, picking it up and beginning to tap on the drum head.  As she cautiously awaited my partner's and my approval, another family with kids walked down the steps towards the Music Corner.  The 5-year-old-ish son locked eyes on the acoustic guitar (that we leave out for just such an occasion!), plopped himself up in the Big Orange chair, and began to strum--his dad as his coach.  Soon, the four of us were all making beautiful noises together, and the younger siblings were now utterly intrigued, longingly awaiting a free instrument. So I grabbed some supplies from our craft room and we all made our own noise-makers.  Now everyone had an instrument to play!  This is the point where I knew our Live Music Sunday had turned into an all ages, all out JAM SESSION!  We jammed for close to an hour.  It was absolutely unplanned and imperfect in every way.  But nothing short of brilliant."
- Kellyn Wooten, Children's/Music Events and Outreach Coordinator, 2019-Present
"There are too many small, perfect moments that Indigo gifted me to choose just one. I spent many hours reading, working, volunteering, feeling too much, sleeping too little and benefitting from a space that had community built right into it. 
When Indigo was at its peak, it was a steward of the best people and ideas in all of Lincoln. I got to soak all that up while lurking in the back office, waiting for my best friend to take a break from trying to save the world from a messy desk in a little store in Nebraska
I'm a better person, aggressively aspirational, on to very ambitious world-saving agendas of my own. Not citing Indigo  as a key reason for where I am now- because of the people I got to meet and the work I got to participate in- would be such a disservice. 
Thanks, Indigo. What a privilege!"
- Shae Sackman, Friend of Indigo, 2010-2020
"For me, the most invigorating part of working at Indigo Bridge was opening the space for events and discussions about justice and healing. To make these events happen, we partnered with activists, writers, artists, professors, nonprofits, and anyone else around the community who had stories to share and causes to support. Through these experiences, I learned how important space can be, as well as books, in connecting people to each other and building radical solidarities. At its best, this is exactly what Indigo Bridge did."
- Jeff Moscaritolo, Employee, 2013 - 2015
Looking back, IndiZoo was one of our many wild ideas that came together marvelously and we are so thankful that it did. We brought books to life for kids in the community by bringing the Lincoln Children's Zoo, Pioneers Park Nature Center, and Raptor Recovery to Indigo Bridge Books on a monthly basis. Together with our partners, we learned about hedgehogs, owls, snakes, bearded dragons, and so many other interesting animals. Following the presentation, we had story time + crafts and it was truly a hit.

If you were one of our IndiZoo attendees, thanks for sharing that special time with us. We are grateful for the memories.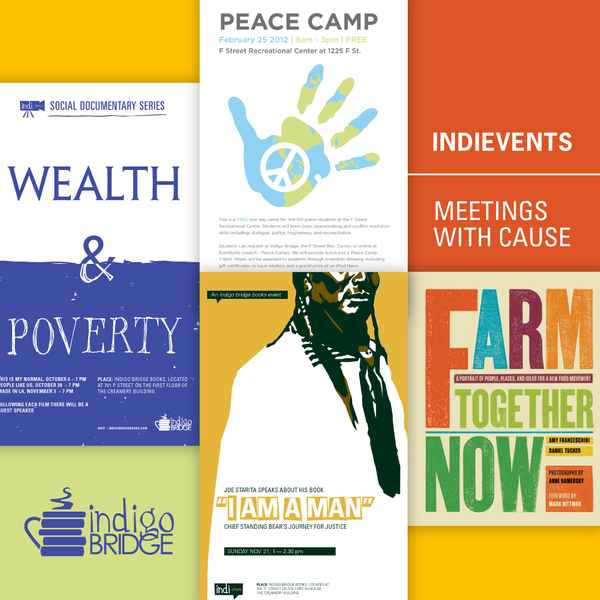 We loved seeing the community come together during our IndiEvents. We created events on sustainable agriculture to peace camps. Here are some of the posters from the past; we hope you enjoy this trip down memory lane.