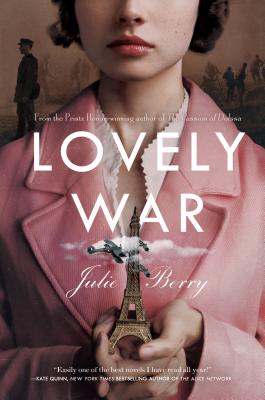 "Let them start their dreadful wars, let destruction rain down, and let plague sweep through, but I will still be here, doing my work, holding humankind together with love like this."
I'm the last person anyone would expect to be recommending a love story, especially a war-drama love story, but Julie Berry's Lovely War swept me off my feet and left me drifting between cold earth and fluffy clouds.
The story opens with god and goddess Ares and Aphrodite getting caught in Hephaestus' powerful net during an adulterous get away. Hephaestus then asks them to defend their actions, and Aphrodite decides to do so by telling a lengthy story about her "work." The book then takes us into the lives of four young adults, two women and two men, as they struggle to deal with love and friendship during World War I. We come to know Hazel, a young pianist from the UK; James, a British soldier jetting off to battle for the first time; Colette, a Belgian volunteer whose entire town was destroyed by the Germans; and Aubrey, a black musician from the United States playing in the American Army's band.
Our main four deal with socio-economic status, racism, love, and tragedy as the gods loop together their unique lives. In fact, the entire tale is narrated by Greek gods, beginning with Aphrodite and eventually involving Ares, Apollo and Hades in order to convey points of love, war, music and death. 
Berry manages to give every character a unique and intriguing voice, gods and humans alike. While some of the trials and events in the lives of the characters may be hard for the average modern reader to relate to, the main cast is lovable and convincing enough that it is easy to become enamored with all four and tear through their stories as quickly as possible. The writing is almost always lyrical (save when Ares speaks of war, naturally) and downright breathtaking at points, whipping you between sweet, romantic moments and heart-breaking battlefield death so quickly it leaves you dizzy. The story is a beautiful mix of tragedy and romance, and it blends together the longing of Greek mythos and the honesty of modern storytelling elegantly.