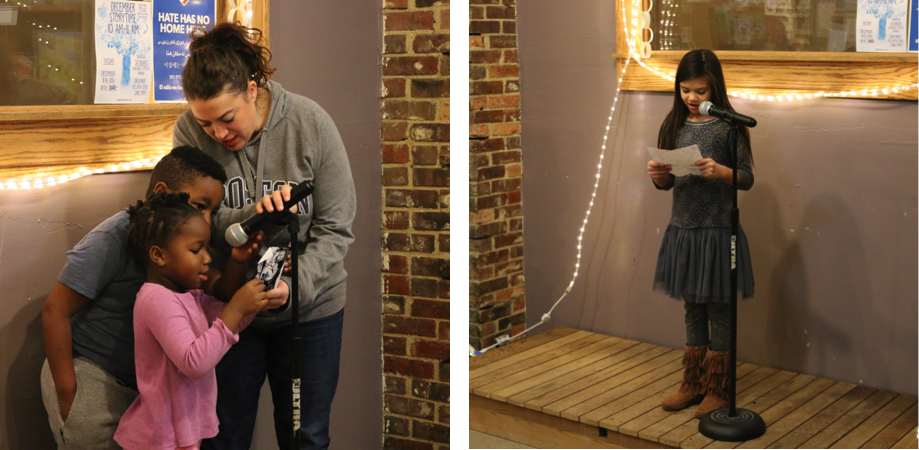 Literacy outreach has always been at the heart of Indigo Bridge's mission to encourage children to be adventurous, creative, and freethinking.  The store's newest program, now in its second full year, is creative writing clubs at Title 1 schools through the Lincoln Community Learning Center (CLC).  The writing clubs that Indigo sponsors typically take place during the second and fourth quarters of the school year, and were most recently hosted at Calvert and Everett elementary schools.
The idea for the CLC clubs, and the open mic event at the conclusion, grew out of a middle school summer writing club hosted by Indigo's Children's Outreach Coordinator, Lynett Wilson.  After the success of the summer club, Wilson saw the value of making it an ongoing program.  "I met with the CLC coordinators from several Title 1 schools and we brainstormed how to grow that idea," said Wilson. "We wanted to start with the younger grades so that by middle school they would be more familiar and comfortable with creative writing."
The clubs, which are usually made up of 10 to 15 students, provide a different experience than that of the regular classroom.  Students get a chance to meet others who are interested in writing, share what they've written with the club, and receive one-on-one attention from the club leader.  "The clubs aren't focused on spelling, sentence structure, or writing diagrams.  The students get that in their school day," said Wilson.  "They are more about having fun writing, sometimes being silly, and removing any barriers that keep them from expressing themselves."
Over the years, the program has also been supported by a number of other Indigo Bridge employees.  Anne Aberle, a manager at Indigo Bridge, joined the program as a club leader in the second quarter of the 2018 school year.  Aberle enjoyed seeing the students develop their own writing style week by week. 
"I loved seeing where their individual creativity and interests took them," she said.  "One girl thrived off of collaboration, and inspiration from real life.  One boy's family was from Mexico and nothing he wrote was complete without at least some small reference to the food and traditions he loved.  Another boy, the shyest and youngest of the group, told me that he wanted to be an artist, and his writing always came with painstaking illustrations that he must have spent hours on during the week."
Wilson said she appreciates seeing the students gaining confidence in both their writing and public speaking abilities and giving kids who don't get the chance to talk much during the school day a place to have their voices heard.  For her, one of the biggest rewards is "knowing that for some of the students, seeds are being planted, and they will grow more confident in themselves and their writing."  Aberle also said that she saw the students becoming less dependent on guidance from her, and learning to trust their writer's instinct.
In some cases, the students in the program had just as much of an impact on the leaders as the leaders had on them.  Wilson said that the hugs from the students made an impression on her "because they knew that for that time in club, you cared about them."  It also helped her sharpen her problem solving skills.  "At times things didn't go as planned and we had to go to plan B, sometimes even plan C!"
For Aberle, the program led her to do more writing herself.  "I hadn't been writing much in my own life, but I did during the club because they asked me to.  I couldn't say no, and I ended up loving the time I set aside each week to do that," she said.
The clubs culminate in an open mic event at Indigo Bridge for the students to share their work with their friends, family, and the public.  English students from the University of Nebraska served as volunteer judges, and gave positive and constructive feedback.  Wilson extended invitations to schools across Lincoln to participate in the open mic along with club members from Calvert and Everett.  She feels that the open mic represents a very meaningful ending for the students.  "The kids know that something big was planned for them, and they received an invitation," Wilson said.  "It's a really special moment and memory, coming in with their families, how magical our space feels, using the microphone."
Wilson said that she hopes to eventually have all 26 Title 1 schools represented at the open mic event, and that there will always be a need for volunteers for the after school clubs and the open mic event.  Plans are already in the works to add more club leaders for the next quarter.  If you would like to volunteer with Indigo Bridge, please contact the store.  "I hope that when people hear about the program they will be inspired to brainstorm," said Wilson.  "I hope people will dream big and come up with ways to impact people in their lives."