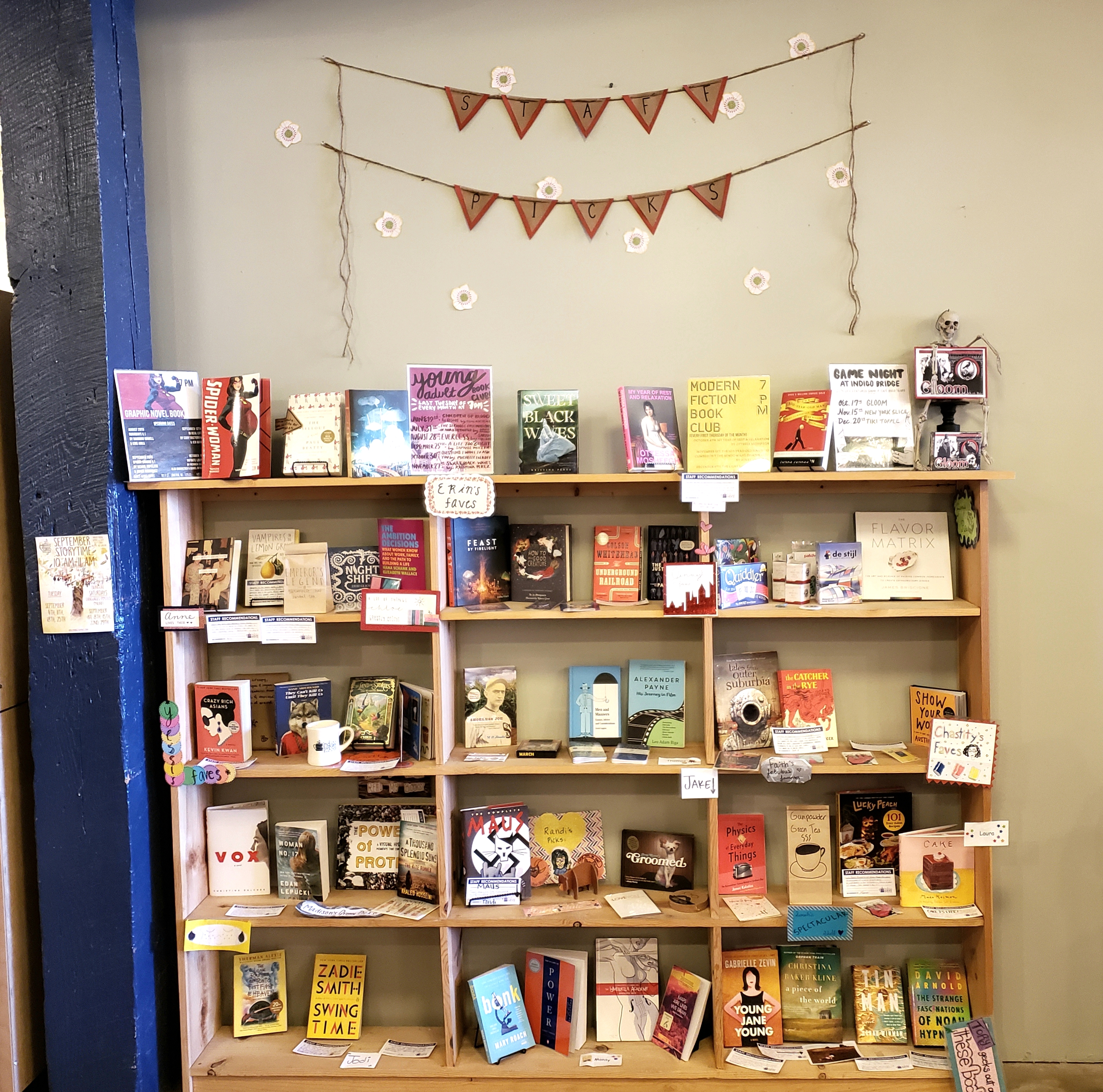 Welcome to the newest series on the Indigo Bridge Blog! There are so many things to love about the space that's been created at Indigo (too many to delve into in a blog post), but one of those things is that every single book on the shelves here was hand-picked by an employee. Get to know their tastes by checking out what's on everyone's staff rec shelf!

Jodi
The Sellout by Paul Beatty
"Winner of the 2016 Man Booker Prize! The author uses satire to address the effects of racial oppression."
Swing Time by Zadie Smith
"The title refers both to dance and to the shifts in time between past and present. The setting begins as a biracial female narrator, living in London in 2008, looks back at her childhood in the 1870s and 80s to understand herself and the strong women in her life."
The Lone Ranger and Tonto Fistfight in Heaven by Sherman Alexie
Tory
Young Jane Young by Gabrielle Zevin
"What if Monica Lewinsky had kept a blog about her affair with Bill? That's basically the crux of this character study, boasting a surprising amount of heart."
The Strange Fascinations of Noah Hypnotik by David Arnold
"This book is like if Donnie Darko had a sense of humor! A++++"
A Piece of the World by Christina Baker Kline
"This book is about the real life Christina that the artist Andrew Wyeth depicted in his painting 'Christina's World' (1948)"
Tin Man by Sarah Winman
"Book of the year. You will live an entire life between these slim covers."
Chloe
The Ambition Decisions: What Women Know about Work, Family, and the Path to Building a Life by Hana Schank and Elizabeth Wallace
Stína by Lani Yamamoto
Lynett
Little Miss Alcott's Little Women: A Playtime Primer by Jennifer Adams with art by Allison Oliver
The Land of Stories: The Wishing Spell by Chris Colfer
Lynett does outreach in schools around Lincoln, so this recommendation comes from her and the 6th grade lunch book club at Park Middle School: "Think of your fairytale childhood favorite characters, they follow you into your tween years and make life and school much more interesting! Action, adventure, friendship, family, humor...this book has it all!"
Randi
The Complete Maus: A Survivor's Tale by Art Spiegelman
"Maus depicts the Holocaust victim's story through touching words, metaphors, and thought-provoking imagery."
Naila
Woman No. 17 by Edan Lepucki
"This novel is inspired by real life mother-daughter relationships that you can actually check out on the author's moving instagram page: @mothersbefore (SO DARN COOL).
Vox by Christina Dalcher
The Crossing by Cormac McCarthy
Madison
A Thousand Splendid Suns by Khaled Hosseini
"This novel portrays womanhood and motherhood in Afghanistan through the perspectives of two women. By following their lives before and after they meet, Hosseini shows an often untold story that is important to hear. Like The Kite Runner, you won't be able to put down this book!"
The Power of Protest: A Visual History of the Moments that Changed the World by Brenda Griffing
Yessi
Crazy Rich Asians by Kevin Kwan
"The rumors are true! It is as good as everyone claims it to be! This book displays Chinese tradition, cultural relativism, old money, success, and love in such a natural way it's almost impossible to put down! Also, I promise that by reading the book before seeing the movie you'll have a bunch or background knowledge and your experience will be 100x better."
They Can't Kill Us Until They Kill Us by Hanif Abdurraqib
One of Yessi's picks is a blind date book, so we can't tell you what it is! But it's from our Science section and here's the description: "Icky, creepy, grotesque, and ingenious ways creatures have survived and thrived. For fans of weird facts!"
Monty
Bonk: The Curious Coupling of Science and Sex by Mary Roach
The 48 Laws of Power by Robert Green
Maps are Lines We Draw: A Road Trip Through Haiti by Allison Coffelt
Umbrella Academy Volume 1: Apocalypse Suite by Gerard Way and Gabriel Bá
Erin
The Dorothy Must Die Series by Danielle Paige
"This new take on what really happened when Dorothy went to Oz will have you laughing, crying, cheering, thirsting for more, and wondering what 'good' and 'evil' really are!"
Feast by Firelight: Simple Recipes for Camping, Cabins, and the Great Outdoors by Emma Frisch
Jimmy
The Underground Railroad by Colson Whitehead
"This masterful reimagining of American history conflates the present and the past in order to truly examine how Black people are treated in America. Thought provoking!"
Anne
Vampires in the Lemon Grove by Karen Russell
These stories are otherworldly and often grotesque but somehow also a bit goofy. Russell expertly blurs the line between what is human and what is not, with vampires (of course) and girls who are silkworm caterpillars (?!?!). Read this now!
Night Sky with Exit Wounds by Ocean Vuong
"There's an entire world in these 85 pages and it's one where grief and ecstasy live side. Currently loving: the poem "Homewrecker" on page 32!"
Emperor's Legend Turmeric Chai Herbal Tea
"It's one of our featured teas this autumn and it is dang DELICIOUS. Tasting notes: anise, clove, cardamom, ginger, and turmeric."
Jenny
The Education of Little Tree by Forrest Carter
"Growing up Cherokee in the Great Depression, this boy takes us on an unforgettable journey that will test all of your emotions. Playful and full of truth."
Sagrada The Board Game by Floodgate Games. To play, you use tools-of-the-trade and careful planning to construct a stained glass window masterpiece in the Sagrada Familia cathedral.
Faith
The Catcher in the Rye by J. D. Salinger
"On the surface, our narrator is an unreliable, angsty teen. Underneath, this novel is about being emotionally stunted as a child, unresolved and unaddressed trauma, and struggling to live in your own brain. 10/10 would recommend to hopeful cynics."
Tales from Outer Suburbia by Shaun Tan
Chastity
Seafurrers: The Ships' Cats Who Lapped and Mapped the World by Philippa Sandall
"Look at the cover!! The title!! If you're not a cat lover and therefore instantly in love (like me), I can also say that this book is so genuinely funny..from the photoshopped cat pics to 'Whiskopedia.'"
Show Your Work! 10 Ways to Share Your Creativity and Get Discovered by Austin Kleon
Sarah
The Physics of Everyday Things: The Extraordinary Science Behind an Ordinary Day by James Kakalios
Gunpowder Green Tea. The flavor of this is stronger than most green teas, so is great for multiple infusions and makes a great everyday drink!
Laura
Cake: A Cookbook by Maira Kalman
"CAKE IS LIFE! Illustrated memories of moments both simple and grand that call for cake."
Lucky Peach: 101 Easy Asian Recipes by Peter Meehan
"My minimalist niece keeps only two cookbooks in her kitchen—this is one of them. She swears by it!"
Lucha Libre: A Bilingual Anatomy Book by Patty Rodriquez and Ariana Stein
John
Shoeless Joe by W. P. Kinsella
Thomas
Men and Manners: Essays, Advice and Considerations by David Coggins
"An etiquette guide for modern times, this book is less about using the right fork and more about how to handle Facetiming in public places, road rage, and plane travel."
Alexander Payne: His Journey in Film by Leo Adam Biga
"An interesting look at the career of Academy Award winning filmmaker, Nebraska's own, Alexander Payne."