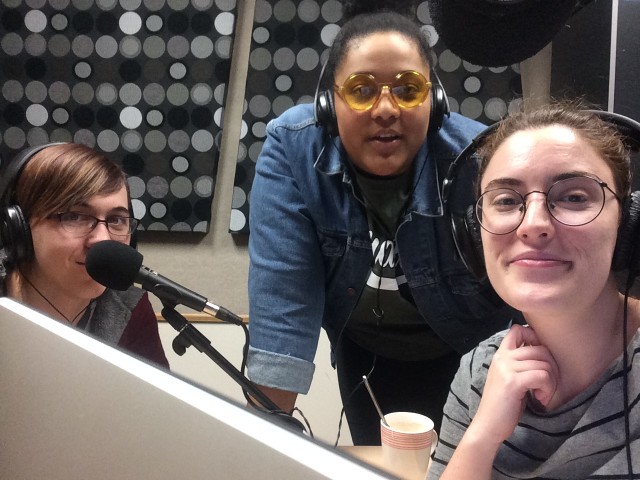 For the last eight months, several of us Indigo Bridge staffers (Courtney Morrow, Brittany Burton, and I, Maddie) have been running a monthly Inclusive Feminisms discussion series. The event happens on the last Wednesday of every month at 7 PM at Indigo Bridge and is focused on giving woman, femme, and queer voices from the community a platform to speak about their experiences.
So far, we've covered a wide variety of topics, including Black feminism and womanism, feminism and mental health, and body and sex positivity. In keeping with our name, one of the main themes of this series is inclusivity. We want to bring speakers from all parts of the community who can engage with the audience on multiple levels, not just through theory or lectures. Generally our events consist of a series of speakers and some audience question time afterwards, but we have also had lecture and panel style sessions.
We were also able to start work on an accompanying Inclusive Feminisms podcast series this January. Much like the events, the podcast will have several speakers from the community having a discussion around a broad topic. So, if you can't join us in the store, starting in May you can tune in to Inclusive Feminisms at any time of day. You'll be able to find it on kzum. Future topics for both the in-store event and the podcast can be found on this page of our website.
Our next event is May 31st at 7 PM and the topic is Parenting and Feminism.
Organizer Courtney wrote about what Inclusive Feminisms has meant to her personally.
"Inclusive Feminisms has been inspirational, challenging, but most of all, educational for all of us and hopefully the attendees. Over the past eight months we've put a lot of work into holding events that are not only relevant, but integral to the community. Although, we strive to make our subjects relevant in our society, some of my favorite nights were on subjects that were not as popular. That were only relevant to the marginalized people going through them. Those nights stuck out to me so much because we almost always get attendees that come up to us or the speakers, wanting to share their thanks and gratitude. Now that we're expanding to podcasts as well as in store events, we'll have even more opportunities for marginalized folx to share their experiences."
Fellow organizer Brittany Burton added to include:
"Inclusive Feminisms provides our entire community with the opportunity to hear the firsthand experiences of marginalized people. This is an invaluable resource when looking to be a positive part of our community and a full +capable ally to yourself and others."