"Healing the Divide" Poetry Reading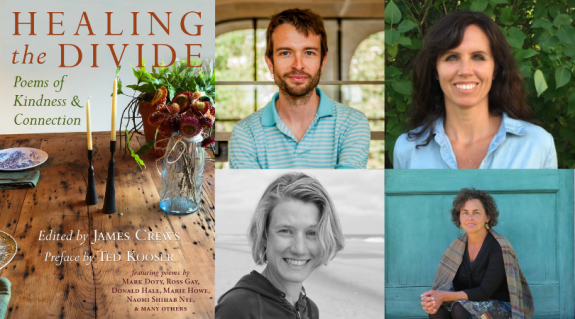 "Healing the Divide" is a beautiful poetry anthology, celebrating our human togetherness and kindness. On May 18th at Indigo Bridge, we are proud to feature several local and national poets. Reading at the event will be the anthology's editor, James Crews, a UNL Ph.D graduate, who's flying in from Vermont for this event, as well as several local poets (including Marjorie Saiser and Pat Emile) reading from the book. Matt Mason, Nebraska's newest Poet Laureate, and a crew of young poets will also be presenting various works on the topic of togetherness and overcoming negativity and hate.
From the publisher's website: "This anthology features poems by Mark Doty, Ross Gay, Donald Hall, Marie Howe, Naomi Shihab Nye and many others. These poets, from all walks of life, and from all over America, prove to us the possibility of creating in our lives what Dr. Martin Luther King called the 'beloved community,' a place where we see each other as the neighbors we already are. Healing the Divide urges us, at this fraught political time, to move past the negativity that often fills the airwaves, and to embrace the ordinary moments of kindness and connection that fill our days."