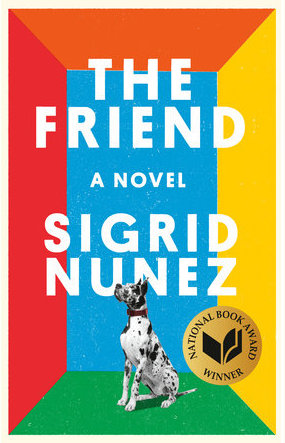 We're discussing this at Indigo's Modern Fiction Book Club at 7pm on March 7th!
 ***
"What we miss - what we lose and what we mourn - isn't it this that makes us who, deep down, we truly are. To say nothing of what we wanted in life but never got to have."
I'm probably not the first person you've heard recommend this book considering that it won the National Book Award last year, but it really is that good!
A woman's longtime friend and mentor, previous professor, and one time lover has just committed suicide. She agrees to care for the Great Dane he has left behind, one of the only major characters given a name—Apollo. The narrator and the friend she's mourning are both nameless. His wives are called Wife One, Wife Two, and Wife Three. The narrator's one sympathetic friend who tries to help her as she isolates herself and becomes obsessed with Apollo's state of mind is repeatedly called "the friend who is most sympathetic about my situation." Rather than confusing, this simplification actually makes it easier to give your undivided attention to the narrator's unraveling.
A book about a writer living alone in New York City could easily be cliche, but The Friend is the complete opposite. My very first impression was shock at how much it reminded me of Bluets by Maggie Nelson. It's written in very fragmented prose but still feels elegant, it obsessively reflects on grief and loss, and it constantly references other writers, philosophers, and artists but is still extremely accessible. Then as I kept reading, it started to remind me of On Beauty by Zadie Smith in how unflinchingly honest and critical it is about the world of literature and academia. The narrator complains about "customer reviews full of umbrage, suggesting that if a book didn't affirm what the reader already felt—what they could identify with, what they could relate to—the author had no business writing the book at all." The Friend will not explicitly affirm what you already feel, or at least I hope it doesn't completely. The man who has committed suicide had a habit of sleeping with young women who were his students (the narrator was one of them) and believed that "the classroom was the most erotic place in the world." And the narrator seems to believe him. I don't want to give too much away, so I'll just say that it's important to read between the lines and remember that her grief is not just the grief of losing a lifelong friend to suicide.
The Friend is blunt, meta, and remarkably sure of itself. This is a short book and, with how thoughtful and compelling it is, a very fast read and a pleasure to reread.