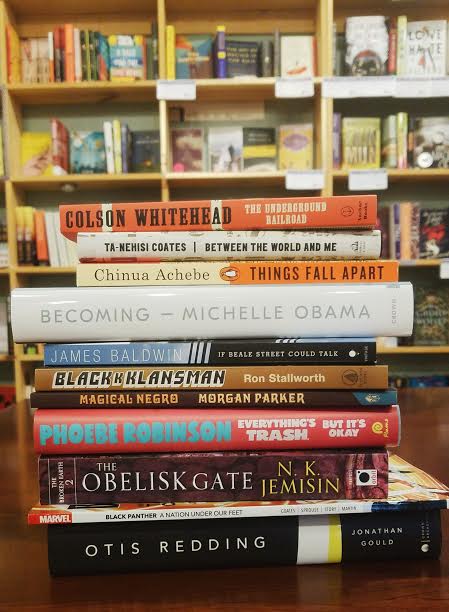 This February our staff members have put together a list of books they love that honor the canon of African American literature—from kids lit classics to graphic novels with messages of empowerment. We'd love to hear what you've been reading for Black History Month too! Tag us on social media and we'll share your recommendations.
Things Fall Apart by Chinua Achebe (classics)
"Achebe's powerful story about pre-colonized Nigeria is a must read. He not only shows a perspective usually not highlighted in Western society, but also keeps you on your toes up to the very end of the novel."
Recommended by: Madison
The New Jim Crow by Michelle Alexander (intersectional studies)
"This book provides the vast and important history of how mass incarceration in America has destroyed communities of color."
Recommended by: Chastity
If Beale Street Could Talk by James Baldwin (classics)
"A heady but devastating read about people who fight hard and love even harder as they make a life for themselves despite the outright and institutionalized racism working against them. As timely now as when it was published in 1974! This is the kind of book I wish I'd read in a high school English class. It's short, straightforward, and unputdownable—required reading honestly. Bonus points: watch the movie! It's directed by Barry Jenkins, came out last year, and has some stellar performances in it."
Recommended by: Anne
Between the World and Me by Ta-Nehisi Coates (intersectional studies)
"ESSENTIAL."
Recommended by: Anne
Black Panther: A Nation Under Our Feet by Ta-Nehisi Coates (graphic novel)
Recommended by: Monty
The Watsons Go to Birmingham—1963 by Christopher Paul Curtis (kids fiction)
"This is the utterly SIDE-SPLITTING story of the crazy Watson family of Flint, Michigan, who take a road trip to visit family in Alabama. You're going to be cracking up from the first chapter, where the 'official juvenile delinquent' big brother vainly kisses his reflection on the car's side mirror and freezes his lips to the mirror. The family loves each other but never stops with the sarcasm and sly digs at one another—seriously, this book has a great sense of humor! The tone changes drastically, though, when the Watsons become part of the 16th Street Baptist Church Bombing in Birmingham, and our narrator, fourth-grade Kenny, is faced with the scary reality of racism, and how it can invade even the tightest-knit of families."
Recommended by: Tory
The Book of Delights by Ross Gay (adult fiction?)
Ross Gay is an absolute wonder. These are lyric essays, some as short as a paragraph and none longer than five pages, that were written over the course of a year. This book is an extraordinary reminder of how remarkable it is to be alive in this world, while still acknowledging the inescapable complexities and terrors that come along with that. It's funny, poetic, philosophical, and exactly what we all needed."
Recommended by: Anne
Dream Country by Shannon Gibney (young adult fiction)
"This story threads itself through centuries, continents, and five generations before it comes to a shocking end. It's also based on historical facts!"
Recommended by: Erin

Otis Redding: An Unfinished Life by Jonathon Gould (performing arts)
"This book not only covers the life of this incredibly important and influential musician, but also examines the time in which Redding grew up, and recorded and performed music, which was marred by racial segregation and political tension, giving rise to the Civil Rights Movement. It is as much a study of American music and society from the 1950s and '60s as it is a biography."
Recommended by: Thomas
The Sun Does Shine: How I Found Life and Freedom by Anthony Ray Hinton (biography)
"Falsely accused of murder and denied adequate legal defense, Hinton spent 28 years on Alabama's death row before being saved by the Equal Justice Initiative. His memoir teaches us to hope in the most sorrowful times and fight for our freedom."
Recommended by: Jimmy
The Broken Earth Trilogy by N. K. Jemisin (sci-fi, horror, and fantasy)
"If you love fantasy or post-apocalyptic novels, this series is for you! The world is full of magic, mystery, tragedy, and real actual people that are easy to connect to. The series is a shining example of modern fantasy—it's everything fantasy could have been in the past but couldn't because it was too conservative."
Recommended by: Sarah
Thank You, Omu! by Oge Mora (children's)
"For starters, the word Omu translates to Queen in Igbo, how sweet is that? Oge Mora's book is intended for a young audience but is enjoyable for any reader—it has an overwhelming amount of inclusiveness, kindness, and compassion. There are many lessons to be learned here but the most important character trait that Omu displays is her selflessness."
Recommended by: Yessi
The Bluest Eye by Toni Morrison (adult fiction)
"The Bluest Eye is not a fun read, but an important one. Morrison is a phenomenal writer who delivers this story in heart-wrenching detail and contrasts the experience of several young black girls in the 1940s with the stereotypical white family from the famous Dick and Jane books. While this book was written around the conclusion of the Civil Rights Movement, it highlights the eurocentric beauty standards we still push on children and how it has a detrimental effect on black girls' self-image and self-worth."
Recommended by: Chloe
"This book is heartbreaking and almost stressful to get through, but it's brutal honesty about the lives of African Americans in the 1940s coupled with its understanding of the mind of a child make it a worthwhile read, even if it's difficult. A life-changer and lesson-teacher for sure."
Also recommended by: Faith
Becoming by Michelle Obama (biography)
Recommended by: Lynett
Magical Negro by Morgan Parker (poetry)
"Just out this month! Morgan Parker writes these political, pop-culture-y poems that really pack a punch."
Recommended by: Anne
Indecency by Justin Phillip Reed (poetry)
"Winner of the 2018 National Book Award for poetry! Tender, daring, and insightful—this slim book takes on issues of masculinity, sexuality, exploitation, and the prison industrial complex."
Recommended by: Anne
Everything's Trash, But It's Okay by Phoebe Robinson (humor)
"Yaaaaaaaaaasssss!"
Recommended by: Randi
The Rose That Grew From Concrete by Tupac Shakur (poetry)
"This is a collection of beloved artist Tupac Shakur's most intimate poems and journal entries from 1989 to 1991. A raw look at his refined world view and an opportunity to get up close and personal with a pop culture mogul and hip hop legend. I loved comparing these intense poems to my favorite Tupac raps. This is a must read for music buffs."
Recommended by: Naila
Blackkklansman: Race, Hate, and the Undercover Investigation of a Lifetime by Ron Stallworth (biography)
"This is such an important and profound memoir about Stallworth's experience as the first black detective in Colorado Springs and his journey through investigating and 'joining' the KKK. The movie, produced by Jordan Peele, is also quite good!"
Recommended by: Madison
Just Mercy by Bryan Stevenson (biography)
"Bryan Stevenson has spent his life defending those found incarcerated without a voice. Just Mercy tells the story of the Equal Justice Initiative and their mission for Black liberation."
Recommended by: Jimmy
The Hate U Give by Angie Thomas (young adult fiction)
"This list wouldn't feel complete without Angie Thomas's runaway bestseller. It gets the label of YA but this is without a doubt a book for adult readers as well. It's urgent, topical, fearless, and an absolute page turner."
Recommended by: Anne
The Color Purple by Alice Walker (adult fiction)
"Alice Walker's groundbreaking book provides insight on the unique struggles black women faced during segregation. A timeless classic featuring black queer sexuality and a nice twist on the epistolary novel."
Recommended by: Jimmy

The Underground Railroad by Colson Whitehead (adult fiction)
"This is a groundbreaking novel that jumps off the rails of established black historical fiction by constructing a literal Underground Railroad that crisscrosses America. Although set during slavery, Whitehead twists linear time, uncovering the cyclical inequity against Black Americans."
Recommended by: Jimmy