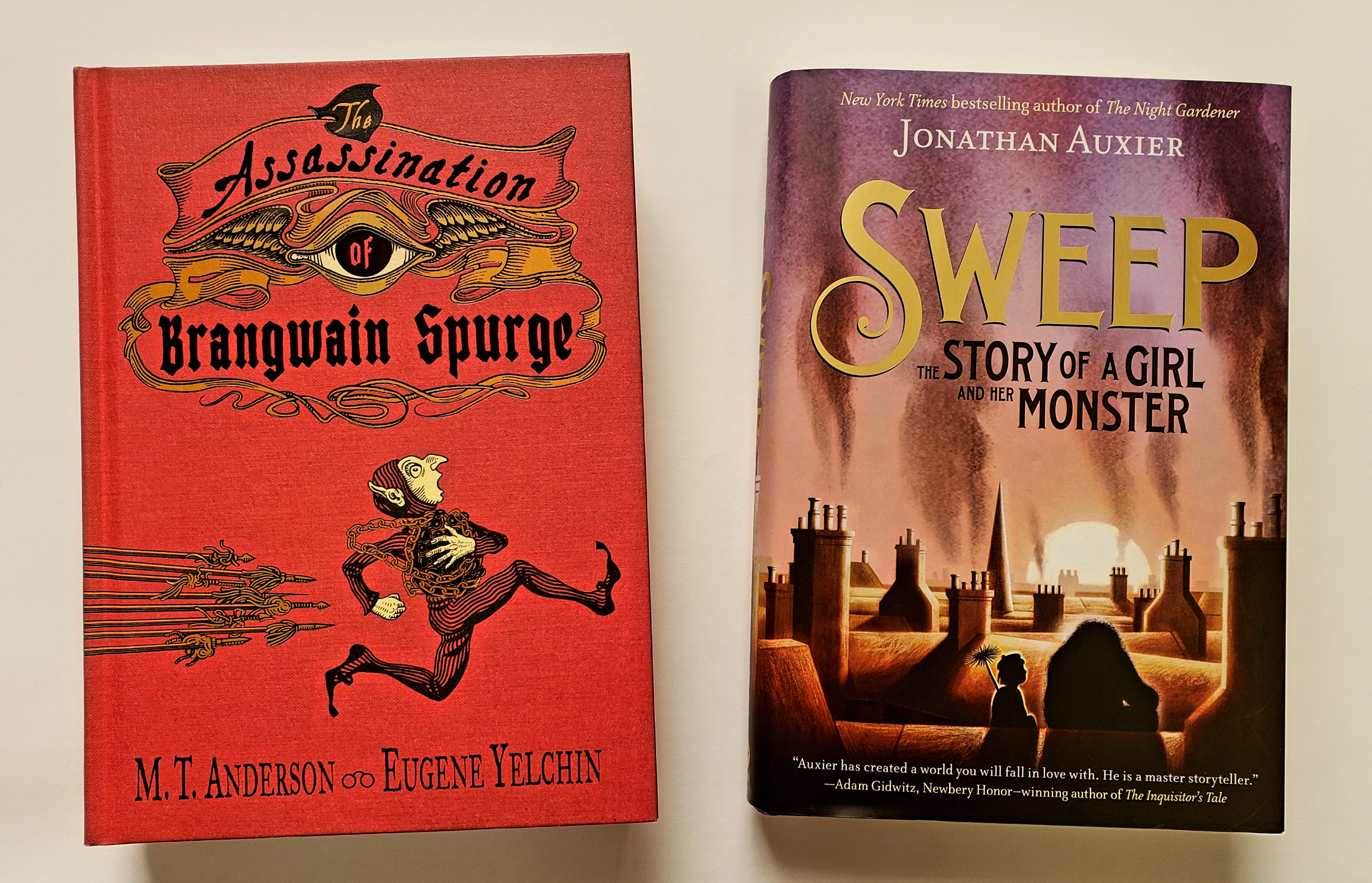 The American Library Association announced its list of award-winning children's books of 2019 on January 28th, with Meg Medina's "Merci Suárez Changes Gears" winning the Newbery Medal for the "most outstanding contribution to children's literature," and Sophie Blackall's "Hello Lighthouse" winning the Caldecott Medal for the "most distinguished American picture book for children." While these awards are two of the most prized in literature, there were many other books celebrated by the ALA. Below, Indigo Bridge general manager and head book buyer, Tory, reviews two of her favorites!
On Monday, author MT Anderson was awarded the Margaret A. Edwards Award, which honors an author for "significant and lasting contribution to young adult literature." I first started reading Anderson in high school; his seminal novel "Feed" is a macabre but hilarious imagining of a world where everyone has the internet in their brain. It's dark and bleak and utterly fabulous.
His newest book, "The Assassination of Brangwain Spurge," is a book unlike any other. Told half in text and half in wonderfully weird woodcut pictures, it tells the hysterically satirical story of a goblin kingdom with a deep-seated rivalry with the neighboring elf kingdom. An elf emissary is sent to the goblins on a mission of peace...but unbeknownst to the ambassador, his peace offering actually contains a bomb, designed to explode the war between kingdoms anew. The combined structure of the illustrations plus text paint two completely different pictures, and the reader is tasked with sifting through the facts and fallacies. On the surface, it's a weird YA fantasy -- underneath, it's a fantastic message on how history is told by the victors, and the importance of considering both sides of every story.
"Sweep: the Story of a Girl and Her Monster," by Jonathan Auxier, won the Sydney Taylor Book Award, awarded for "outstanding books for children and teens that authentically portray the Jewish experience." (Sydney Taylor was the author of the lovely "All-of-a-Kind Family" series about a Jewish family in the Lower East Side of NYC at the turn of the century -- my childhood introduction to the rites and rituals of Judaism!) 
"Sweep" broke my heart into a million pieces. Ohhhhhmygosh. Nan is an orphan chimney sweep in Victorian London with a sooty golem protector/friend named Charlie; Charlie grows from a little cinder into a hulking figure, but is the sweetest, kindest, most perfectly lovable character I've read in YEARS. Without giving too much away, "Sweep" is almost a middle-years version of "The Green Mile" (think kind giant, wrongfully accused, forced into unbearable situations) and Charlie will absolutely shatter you. Even just flicking through the pages of "Sweep" to write this review has me covered in goosebumps all over again. Auxier created a fantastic world and deserves every ounce of praise I can give him.
Check out the full list of award winners here!