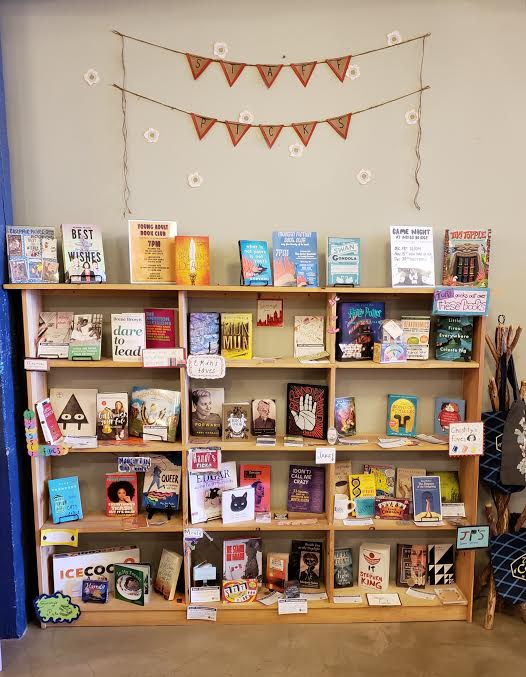 Indigo staff members take on the very fun and important job of deciding what books we stock in our store—just one of the many things that defines us as an independent bookstore that reflects the community we serve. Every book on our shelves was personally selected by an employee here. Get to know their tastes!
Savanna
Velocity by Dean Koontz (science fiction, horror, & fantasy)
"This is one of Dean Koontz's best books. What appears to be a prank ends up being horribly real and a man is faced with many unwanted decisions to make, each choice resulting in a murder. A very suspenseful read!"
Clockwork Prince by Cassandra Clare (young adult fiction)
"This is the second book in Cassandra Clare's Infernal Devices series, but it's one of my all-time favorites. I think the characters are all loveable and for fans of The Mortal Instruments, this book (and series!) is a must read!"
Monty
The Art of War by Sun Tzu (philosophy)
"This book is a must read classic! Strategy, philosophy, and principles of human competition."
Sand County Almanac by Aldo Leopold (environment)
"An ecologist of the first order and father of American wilderness areas. Beautiful, timely science and art."
Set: A Family Logic Word Game
"This game is simple, brilliant, beautiful, and highly addictive! Great for all ages and involvement levels."
Anne
Homesick for Another World by Ottessa Moshfegh (general fiction)
"Dark, surprising, funny, & uncomfortably human. None of these stories are connected by character or plot but they each approach their dilemma with a complete lack of shame."
The Best American Poetry 2018 (poetry)
"So many of today's greats at their greatest! I bought this for the poets I already love then fell in love with so many more."
Sarah
Medical Bondage by Deirdre Cooper Owens (science & medicine)
"This is a new take on the beginnings of American gynecology. It focuses on the women who suffered through the trials -- black and immigrants. Not a happy read but an important one!"
Stuff Matters by Mark Miodownik (science & medicine)
"A fun exploration or what our world is make of and the secrets it holds! You will never look at 'stuff' the same way again."
Chloe
Little Red Hood by Marjolaine Leray (children's)
"Little Red Riding Hood meets the wolf in the forest, but she won't be fooled easily in this retelling of the classic fairy tale. The end is hilarious!"
The Handmaid's Tale by Margaret Atwood (classics)
"This dystopia conveys emotion in every small detail. Atwood does an amazing job at making the reader feel what "Offred' is feeling, and the book is very realistic as it's based on past historical events."
Laura
A Child of Books by Oliver Jeffers (children's)
"If you love books and litographs, take a look inside this book! One glance is worth a thousand words. A beautiful book for readers of all ages."
Lynett
A variety of children's puzzles—come in to see them!
"These are a few of the reasons to buy puzzles: hand-eye coordination, fine motor skills, gross motor skills, problem solving, shape recognition, and memory. AND it can facilitate great face to face conversation!"
Tory
How to Invent Everything by Ryan North (science & medicine)
"Has your time machine broken down? This handy guidebook will help you reinvent society!"
Thank You For Smoking by Christopher Buckley (general fiction)
"The savagely hilarious book that inspired the movie of the same name. Nick Naylor is the modern day anti-hero and um...kind of my dream guy."
Jimmy
The Vegetarian by Han Kang (general fiction)
"This book intends to disturb the reader. Han Kang gives a fabulous insight into Korean culture through the experience of the protagonist. A fascinating read worth the discomfort."
Erin
Furyborn by Claire Legrand (young adult fiction)
"This book had me HOOKED as soon as I picked it up! It's told from two alternating perspectives: a powerful young girl trying to survive and a deadly assassin just trying to save her family. Their lives are 1000 years apart, but their fates are connected. Both women were born with unusual powers they must hide. A MUST READ."
A Monster Calls by Patrick Ness (young adult fiction)
Bailey
The Pretty Dish by Jessica Merchant (cooking & wine)
Madison
BlackkKlansman by Ron Stallworth (biography)
"SUCH an important and profound memoir about Stallworth's experience as the first black detective in Colorado Springs and his journey of investigating and joining the KKK. Also a really good movie!!"
Erased by Kei Sanbe (graphic novel)
Faith
From Here to Eternity by Caitlin Doughty (biography)
"The best way to beat a fear is to understand it. Doughty travels the world learning about various practices of death in different cultures. She uses her sense of humor and creative story telling skills to make the ultimate end a bit less daunting."
Wuftoom by Mary G. Thompson (young adult fiction)
"A young boy goes through a terrible transformation. This book is full of creepy, crawly, and imaginative storytelling. A great read for those ready to ponder what makes human and what makes monster."
The Conspiracy Against the Human Race by Thomas Ligotti (science fiction, horror, & fantasy)
"Ligotti is full of cynicism for the realities of human nature, but his horror-centric, interesting, and witty takes make him worth the read. When viewing us as a whole, he really calls for us to examine ourselves individually. Ultimately hopeful!"
Jenny
The game Poetry Slam—come in to check it out!
"Victory is yours if you can compose a rhyming couplet and get your team to guess your secret word! Stretch your creative muscles of composition."
Jean-Paul
The Cartoon Introduction to Philosophy by Michael F. Patton (philosophy)
"This fun and zany graphic novel provides a young or old reader a new format for visualizing some of philosophy's mind-expanding ideas and theorems. Meet the philosophers of history and enjoy the ride!"
Chastity
Always by Cora Kay Wendeln (zine) - come in to see it!
"Super cool zine by Cora, who used to live in Lincoln. The photos feel very nostalgic and give me a soothing sense of calm. Enjoy the summer ~vibes~ with this one!"
Randi
Cunt by Inga Muscio (intersectional studies)
Everything's Trash, But It's Okay by Phoebe Robinson (humor)
Yessi
Valentines by Ted Kooser (poetry/local interest)
Thomas
The 1990s Teen Horror Cycle by Alexandra West (performing arts)
Country Music USA by Bill C. Malone and Tracey E.W. Laird (performing arts)
John
Kings of Broken Things by Theodore Wheeler (general fiction)
Naila
We Should All Be Feminists by Chimamanda Ngozi Adiche (intersectional studies)
The Book of My Lives by Aleksandar Hemon (humor)