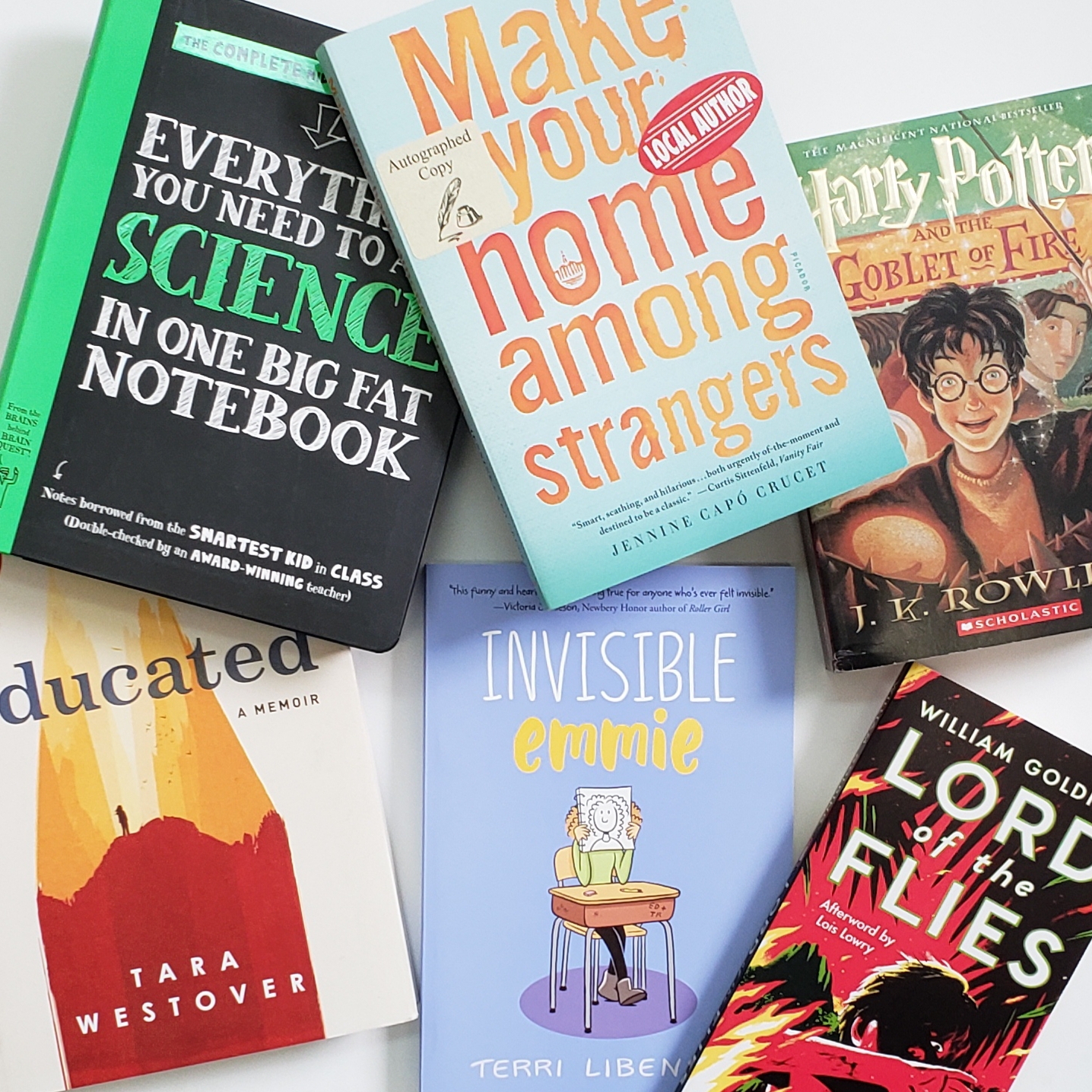 With schools now back in full-swing, we asked our staff for their favorite back-to-school book recommendations!  Whether you are going to school for the first time, heading to college, sending a child to school, or simply someone who hopes to never stop learning, we hope these books will help you as much as they've helped us!
Anne
Make Your Home Among Strangers by Jennine Capó Crucet
Make Your Home Among Strangers by Jennine Capó Crucet is such a good read! The book follows the main character Lizet as she leaves her home and Cuban immigrant parents in Miami to attend an exclusive college in New York (after being the first in her family to graduate high school). The physical distance and gap in education make her feel alienated from her family and her new awareness of her identity as a minority makes her feel alienated on campus, leaving her with some very difficult choices to make. An amazing and important book, plus the author is a professor in the English department at UNL! (She also has a great op-ed piece in the New York Times about Thanksgiving break as a first-generation college student.)
Chastity
100 Words to Make You Sound Smart
We all want to sound smart in school, don't we? Writing essays, conversing with new professors/teachers, and trying to leave a good impression can be quite daunting for those who get socially awkward around new people. (I'm @-ing myself.) This is why 100 Words to Make You Sound Smart is my back to school book recommendation. The title is pretty self explanatory. It includes a range of vocabulary to intensify your scholarly talk; you're welcome!
Faith
Carry On by Rainbow Rowell
Join Simon Snow (wizard extraordinaire, terrible control of his over-powered magical abilities) as he returns back to the one place he feels totally comfortable: Watford School of Magicks. Well, he doesn't feel totally comfortable, seeing as his roommate, Baz, is his biggest enemy (also Simon is positive Baz is a vampire and also ALSO positive Baz is trying to kill him). This year something is odd, however; Baz is no where to be seen. Join Simon and his friends as they attempt to figure out just what Baz has GOT to be plotting, and maybe stumble across romance on the way. Like Harry Potter but with a bisexual protagonist and a much higher number of vampires!
Jodi
Educated by Tara Westover
This author's growth from isolation in a rural Idaho residence to earning a PhD from Cambridge is mind-blowing. This back-to-school book makes me want to push my own boundaries as a new school year begins, as Tara Westover demonstrates the possibility of reaching beyond boundaries. I can't imagine entering her first classroom ever at age sixteen, after the challenges of explaining why she needed a birth certificate and had never before had one.
With encouragement from an older brother, she bought her own study book and began studying enough math to take a placement exam for college classes at Brigham Young University. Hearing the word "Holocaust" for the first time, and being scolded by her instructor and classmate with "that's not funny" when she asked what it meant, Tara realized that academics weren't the only thing she had to learn to succeed in college. She successfully learned how to expand her knowledge, reach beyond the limits she thought she'd have to accept, develop relationships, and find her own truth that didn't match what her other family members insisted upon reshaping much differently than she knew to be true.
Lynett
The Kissing Hand by Audrey Penn
As Mrs. Raccoon prepares her son Chester to go to school for the first time she tells him all the reasons why he will love it.  Make new friends, play with new toys, read new books, etc.  Mrs. Raccoon shares her special secret of the kissing hand, and soon Chester tingles with a special warmth.  As Chester leaves for his first night at school he turns to his mother and shares a kiss in her hand so she too will always feel his love!  An absolute treasure of a story that will put a lump in your throat, or maybe even a tear in your eye, as you think about sending a loved one off to wherever;  kindergarten, middle school, high school, college, military, etc.
Madison
Harry Potter and the Goblet of Fire by JK Rowling
My favorite back-to-school book would be Harry Potter and the Goblet of Fire. Like in all of the Harry Potter books, JK Rowling illustrates how going back to school doesn't only mean academics, but also coming back to friends and adventures. The Goblet of Fire highlights how important friendship and team work are in school.
Monty
Lord of the Flies by William Golding
I think Lord of the Flies is a great back-to-school book.  It is a captivating adventure in social experimentation and the characters are unsupervised school boys.  There are no classrooms and no books in the story, but there are certainly an abundance of learning opportunities.  We meet characters who must figure out where they belong in an emerging society, and they exhibit a wide variety of tactics to varying degrees of success.  Many challenging subjects are addressed from teamwork and survival, to bullying. 
This classic is well written and timeless.  The lessons that these boys face are some of the same lessons in front of us in the world today.  What are you willing to compromise?  Can you sacrifice what you believe in and still be yourself?  When the conch gets passed to you, what will you say?
Tory
Invisible Emmie by Terri Libenson
Does the thought of going back to school tie your stomach up in knots? Do you dread having to meet new classmates and new teachers? Do you hate being the center of attention? Oh my goodness, Invisible Emmie, by Terri Libenson, totally gets your problems. Emmie is a 7th-grader who is all of those things. She stays quiet so she doesn't draw any attention to herself, she sometimes has to cry in the bathroom, and she describes herself as "an unattractive puddle of slime." The other character in the story, Katie, is exactly her opposite: a popular, outgoing girl with tons of self-confidence. Their paths cross one day during a particularly humiliating experience for Emmie, and they both realize that they can learn a lot about life from each other's perspectives. 
Invisible Emmie is written half in goofy cartoons (think Diary of a Wimpy Kid) and half in normal text, and her story is perfect for fans of Wimpy Kid, Dork Diaries, or any of Raina Telgemeier's graphic novels. I'd recommend it for anyone struggling with anxiousness and a lack of self-confidence, especially going into middle school! It's also heartwarming and funny. Just a very fun read for people of all ages!
Yessi
Big Fat Notebook: Everything You Need To Ace Math, English, World History, American History, and Science
Going back to school isn't always the most exciting thing to do, especially if you're going from the 5th grade to middle school, so here are some amazing books that will prepare any incoming middle schooler to succeed in any subject! Big Fat Notebook is a series of books that is easy to read and follow along with and has such fun ways of covering subjects such as Math, English, World History, American History, and Science!