AUGUST 05, 2017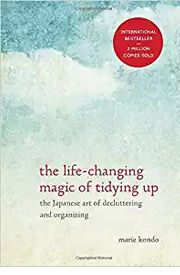 The Life Changing Magic of Tidying Up
By Courtney
Author: Marie Kondo
Publisher: Ten Speed Press
Publication Date: October 14, 2014
Genre: Philosophy
Questions or suggestions? CONTACT US ›
---
Marie Kondo is a magician- plain and simple. She explains why you don't throw away those old boxes of extra fabric that you'll totally use one day when you start that project you've been thinking of. You know what I'm talking about.
Oh, and she'll also explain how to finally get rid of that damn box.
The best piece of advice I got from her was:
When cleaning an area, leave the nostalgic physical items for last.