NOVEMBER 01, 2017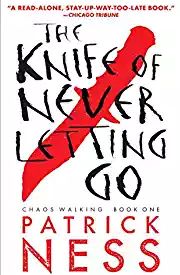 The Knife of Never Letting Go
By Erica
Author: Patrick Ness
Publisher: Candlewick
Publication Date: July 22, 2015
Genre: Science Fiction
Questions or suggestions? CONTACT US ›
---
If you want to know who my favorite author is, look no further than Patrick Ness. Of course there are a ton of great YA authors out there (and authors of other genres), but Ness has forced me to feel so many different emotions while reading, and he provokes thought and growth in his readers. My favorite Patrick Ness work is A Monster Calls (if you are dealing with grief this is a must read: https://www.youtube.com/watch?v=R2Xbo-irtBA), but my first experience with Ness was his YA trilogy titled Chaos Walking. I returned to the first book in this series, The Knife of Never Letting Go, this past week and I have been reliving the pure joy of reading once again.
In The Knife of Never Letting Go, Ness follows the point of view of a young boy, Todd Hewitt, as he finds out some evil truths about his hometown, Pressit, on the planet New World. Todd is thrust out on his own right before his 14th birthday and he discovers a *gasp* girl in the swampland right outside of town. This is shocking, you see, because all of the women were supposedly killed by a virus right after Todd was born. He was the last child born in their world and will soon be the youngest man.
There is something else you should know about Todd: everyone can hear his thoughts, and he can hear everyone else's thoughts too. In fact, everyone on the planet can hear every one else's thoughts. When the settlers landed on "New World" they could suddenly hear each other's "noise". Mass chaos ensued.
Without giving too much of the book away I will tell you one final, very important part of this book: animals can speak on this planet. Todd has a very comedic companion named Manchee who you meet right away in the book. His thoughts had me laughing and crying the whole way through.
This book also deals with questions of gender/sexism, what makes you a "man", love, hate, violence, and starts hinting at racism (this topic comes out in full force in the next two books of the series). We will be reading this book for the Young Adult Book Club in November.
If you are looking for a book that will blow your mind, and make you think harder about what your first impressions are, this is it!  This is the book for you!
The Young Adult Book Club chose this title for our November read.
**Bonus: This series is being made into a movie starring Daisy Ridley (Star Wars: The Force Awakens) and Tom Holland (Spider-Man: Homecoming).