JULY 03, 2017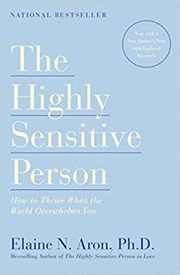 The Highly Sensitive Person: How to Thrive When the World Overwhelms You
By Cooper
Author: Elaine Aron
Publisher: Harmony
Publication Date: June 2, 1997
Genre: Developmental Psychology
Questions or suggestions? CONTACT US ›
---
Throughout my childhood and young adult life, I knew I was different from the majority of my peers.  I was leaving social gatherings early, craving alone time, and spending the majority of my time thinking.  It wasn't until this year that I discovered that these behaviors were actually a personality trait, and that I am considered a highly sensitive person.  After discovering this, I purchased a copy of The Highly Sensitive Person: How to Thrive When the World Overwhelms You, by Elaine Aron.
We live in a world that links sensitivity with femininity, and we also live in a world that teaches children from an early age to dismiss and reject the feminine.  Despite all of that, this book made me feel seen and heard.
The author begins by describing the brain and the physical makeup of this trait.  Being a highly sensitive person, often times I am told that I am too sensitive, or that I just need to calm down.  Right away, the author tells us that this is simply not something we can control, it is in our genetics, and it is a huge part of who we are.  Another large portion of this book is devoted to case studies, interviews, and anecdotal evidence that helps contribute to a complete understanding of what a highly sensitive person looks like in all settings.
I highly recommend this book to anyone who thinks they may be highly sensitive, or to anyone that knows a highly sensitive person.  It accurately and eloquently describes everything I feel on a day-to-day basis, and reaffirms many beliefs that I have about social interaction and interpersonal relationships.  I am very grateful for the time, energy, and research that went into the writing of this book.