SEPTEMBER 12, 2017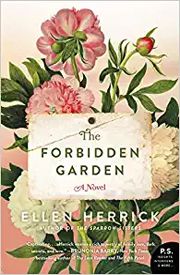 The Forbidden Garden
By Alison
Author: Ellen Herrick
Publisher: William Morrow
Publication Date: April 7, 2017
Genre: Domestic Life
Questions or suggestions? CONTACT US ›
---
Grad school does not leave a lot of time for leisurely reading so I have a big love for books that are well written and quick reads.
Pull-quote In the spirit of full disclosure this a sequel to the book Sparrow Sister. I have yet to read that though it is now at the top of my list.
The Forbidden Garden has all my favorite elements of a novel – it weaves together a love story with magical realism. Sorrel is a horticulturist who is asked to travel to England and repair a garden that has been lost to time and a mysterious curse. It won't allow plants to grow within its walls.
As she tends the garden she finds herself connecting to this odd and loving family that has welcomed her into their estate. She and the family dig deeper into the mystery behind the curse. While tending the garden she falls in love. This book is a true gem and is a delight to read.