AUGUST 30, 2017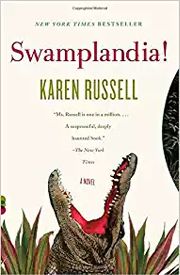 Swamplandia
By Alison
Author: Karen Russell
Publisher: Vintage
Publication Date: July 26, 2011
Genre: Coming of Age
Questions or suggestions? CONTACT US ›
---
Swamplandia is about a family on the verge of losing their Alligator Theme Park in Florida. The story is told from 13 year old Ava's perspective, with all of the highs and lows of a just-turned-teen narrator.
She describes the unraveling of her youth, family and the only home she has ever known with such youthful innocence it breaks your heart to read it. At each page the reader you can see a different perspective of what Ava is experiencing. You can't give her advise or comfort her, you're just along for the ride, but it proves worth it in the end.
I read this book because of my bookclub. Russell is a pulitzer prize finalist and is one of the most beautiful writers I have ever read.