AUGUST 23, 2017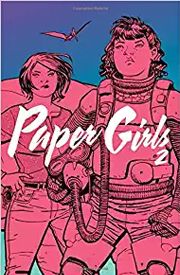 Paper Girls 2
By Phoebe
Author: Brian K Vaughn and Cliff Chiang
Publisher: Image Comics
Publication Date: December 6, 2016
Genre: Comics & Graphic Novels
Questions or suggestions? CONTACT US ›
---
When I read the first volume of Paper Girls I was thoroughly impressed, but was also made distinctly aware of the troubles of loving art that isn't yet complete. The story was so fresh, dense, and seemingly limitless that it felt wrong that I should have to wait for more! But luckily for me (and every other sci-fi fan out there) volume two is here, and it is every bit as fantastic and engaging as its predecessor.
Paper Girls has an undeniably Stranger Things feel, but with a hefty dose of strong girls supporting each other in more ways than what is made obvious. Honestly the Bechdel/Wallace test is not even a question here, which is notably impressive for popular science fiction, graphic novels, and stories written entirely by men. Just one of the many ways in which this series is a breath of fresh air.
Set on the morning after Halloween in 1988, Paper Girls is full of references to those shiny, overwrought gems of the '80s that we're all so fond of. The story follows twelve year old Erin Tieng through her first day on the job as a delivery girl for the local paper. She bonds with the other paper girls while desperately avoiding contact with older teens, whose terroristic acts toward children have earned the morning after Halloween the title of "Hell Morning." However, it soon becomes apparent to Erin and the girls that malicious teenagers are the least of their worries, as their quiet little town seems to be under siege. By warring forces. From the future. Riding pterodactyls.
Volume two picks up directly after volume one's cliff-hanger ending, and doesn't miss a beat. Brian Vaughn (of Saga fame) maintains the lightning pace of the story while simultaneously adding layer after layer of depth, while Cliff Chiang (best known for his work on the New 52 Wonder Woman series) illustrates the story with vibrant, engaging artwork that genuinely connects you to the characters. Paper Girls is an ideal read for any off-beat sci-fi fan, but is made even greater for the unapologetic geek who loves to see the bad guy squirm under the good gal's boot.
 Employee Aja also co-signs this writer, illustrator, staff reviewer and the book.