NOVEMBER 02, 2017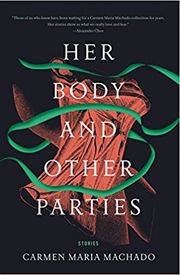 Her Body and Other Parties
By Anne
Author: Carmen Maria Machado
Publisher: Graywolf Press
Publication Date: October 3, 2017
Genre: Short Stories
Questions or suggestions? CONTACT US ›
---
I have heard all of the stories about girls like me, and I am unafraid to make more of them.
Her Body and Other Parties can't quite be categorized. It is science fiction, it is fantasy, it is fabulist, but it is so deeply grounded in a psychological reality. It is comedy, but of the most horrifying sort. In these pages, you'll come across some of the most queer and otherworldly fiction you'll ever read. Take for example, the opening story of the collection, "The Husband Stitch," about a woman with a green ribbon always tied around her neck, even in sleep, which she never explains to her husband and refuses to let him touch (take another look at the cover—it's a green ribbon around the interior anatomy of a neck). Other women in the story have similar ribbons and the reader is left as baffled as the fictional men. The story is riddled with Machado's instructions on how to read the story aloud ("If you are reading this story out loud, give a paring knife to the listeners and ask them to cut the tender flap of skin between your index finger and thumb. Afterward, thank them."). The last sentences of this story will absolutely punch you in the gut, and the stories that follow are equally as vulnerable and haunting. In the novella "Especially Heinous," Machado gives 270 views of Law & Order: SVU, with observations such as "Stabler and Benson will never forget the case where solving the crime was so much worse than the crime itself." Truly chilling.
This is such an intelligent and exquisitely crafted collection, and if you don't trust my opinion, take if from Alissa Nutting—"[these stories] will delight you, hurt you, and astonish you as only the smartest literature can." It's also short-listed for the National Book Award in Fiction (winners are announced November 15th!
Warning: Machado writes openly and unabashedly of the violence committed against women, particularly sexual violence, and that may be triggering for some.