JULY 15, 2017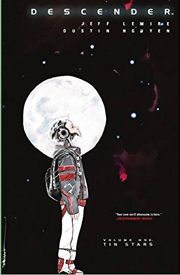 Descender Vol. 1: Tin Stars
By Wes
Author: Jeff Lemire, illustrated by Dustin Nguyen
Publisher: Image Comics
Publication Date: September 9, 2015
Genre: Science Fiction
Questions or suggestions? CONTACT US ›
---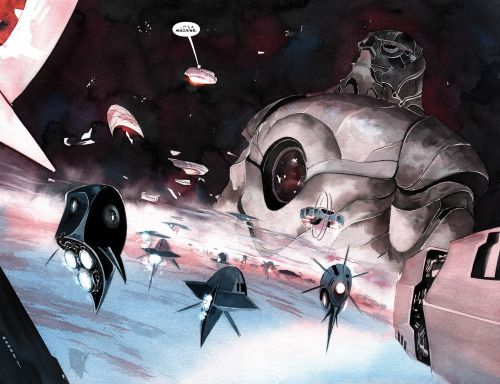 Descender is an on-going comic series written by one of the best writers in the game. It also happens to be illustrated by an INCREDIBLE illustrator. It's a science fiction tale set in an idealistic future where you can buy your own robo-pals and the whole galaxy seems to be in order. The peace is broken when planet sized robots descend and wipe out huge amounts of the population across space. Thus, our story takes us on the journey to discover where these giant robots came from and why they destroyed civilizations.
The story that Lemire writes is very ambitious and huge but ultimately it comes down to the cast of characters we follow throughout.
The big standout is the young robot boy Tim-21 and his emotional journey. He begins the tale waking up from his sleep to a destroyed moon base, with no clear idea of what happened. He is quickly tracked down by bounty hunters and scientists alike, and Lemire weaves other wonderful, well-developed characters into the mix.
The story is great, I can't say that enough, but it is all really tied together by Nguyen's art. His use of watercolors to create gorgeous space environments is unparalleled in any series right now. He manages to make the story look big, which is exactly what it needs. I anticipate each new release in this series highly.
However, it is an artist driven series, so the waits can be excruciating. In the end, it is more than worth it and I am so excited to see where Tim-21 and his crew wind up in the next issues.