SEPTEMBER 08, 2017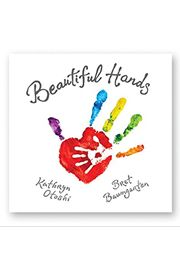 Beautiful Hands
By Michelle Stoneman, Lincoln Kindergarten Teacher
Author: Bret Baumgarten and Kathryn Otoshi
Publisher: Blue Dot Press
Publication Date: September 29, 2015
Genre: Children's Books
Questions or suggestions? CONTACT US ›
---
Assuming this would be another sweet children's picture book, I was not prepared for the impact this book had on me from the first page.
In Beautiful Hands, Bret Baumgarten and Kathryn Otoshi have a created a gorgeous work of art in both picture and word.
Yet it doesn't stop there. It is also a collection of questions for adults and children that set a course for a community of people who think and act in ways that allow us to challenge, inspire and love each other more deeply.
I can't wait to share this story with my students. Not only will they be mesmerized by the hand art and lovely lettering, but it will set the stage for conversations that allow us to create and experience the impact this type of community can have on each of us and more broadly, our school and world.