AUGUST 14, 2017
Mornings at Indigo - 2
~Thoughts, updates, and other dispatches from Lincoln's Indy bookstore in the historic Haymarket~
I'm thrilled when someone plucks a book from my Staff Picks shelf at the bookstore ("Dr. B. likes these!"). I love it even more when a customer exclaims, "I would have never found this book if you hadn't suggested it." But there's something that makes me absolutely skweee. It's that moment when I get to tell a child to pick a book to keep. Their eyes get wide.
"For free!?"
"For free."
What happens next varies from excited bobbing to cautious silence—as if one wrong move will make the offer disappear.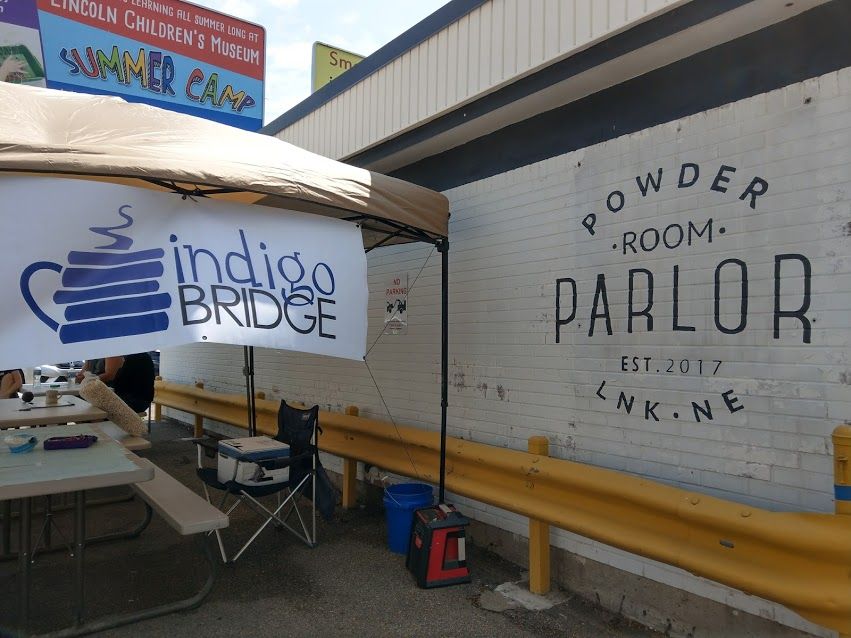 Several Indigo Bridge Books (IBB) staff and community partners enjoyed some happy squeals August 13, when we hosted Fresh Cuts & New Books with Lincoln's newest woman-owned business, Powder Room Parlor. At this inaugural event, children selected a book to discuss with their stylist during their haircut. Treats from Kitchen Sink Cookie Company and craft activities led by IBB staff and volunteers kept children occupied while they waited for one of four volunteer stylists. All books, treats, and services were provided free of charge as part of our #Brewed to Do Good initiative, where we participate in community-invested events to offer no- or low-cost books to select readers.
Both children and parents were thrilled to have the wildness of summer shorn away, replaced by a fresh new haircut for the first day of school, along with a new book that each child could claim, without hesitation was, "for me."
Prior #Brewed to Do Good activities include partnering with the Lied Center for the Performing Arts in May when Matilda, the Musical appeared in Lincoln for a two-week run. Thanks to a grant awarded to the Lied, IBB gave away 1,250 copies of Roald Dahl's Matilda to children who attended the performances. Future #Brewed To Do Good events include participation in the annual Project Homeless Connect, which occurs October 11, 2017.
We are always moving forward with more community partnerships. Find us tomorrow, September 10th, at the Streets Alive! festival from 1-5pm.
—Belinda Acosta | @Indigo Bridge Books since 2015
The comments in this weekly blog reflect the opinions of the writer and do not necessarily reflect the opinions of the Indigo Bridge Books owners or management. Reader comments and corrections are welcome but this blog reserves the right to restrict comments that are intentionally inflammatory, use hate-speech, or are otherwise used to promote an agenda outside the theme of the blog post.