March 8th, 2018
Meet the Author: Wendy Pearlman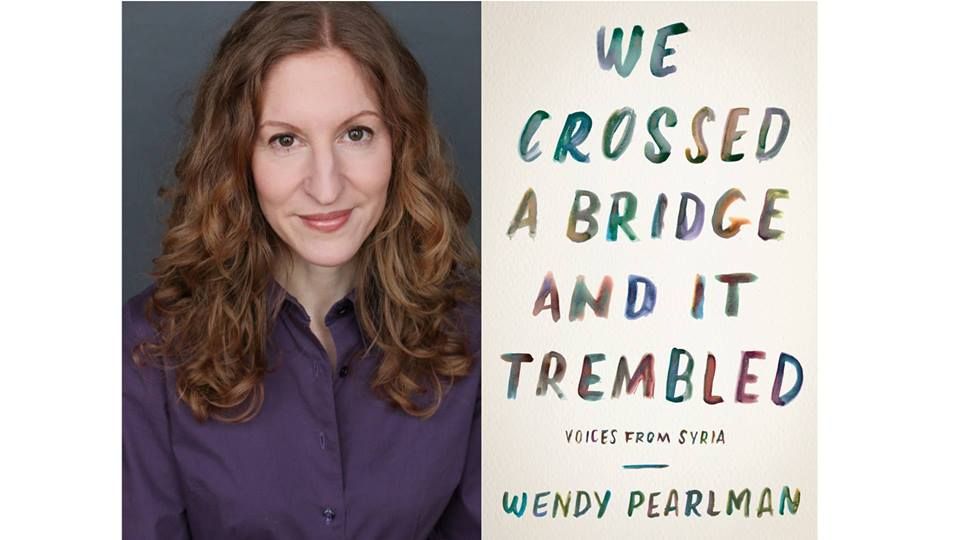 We Crossed a Bridge and It Trembled | Harper Collins, 2017
"The world sat back and allowed a government to use every imaginable violence against its people." Wendy Pearlman

Appearing at Indigo Bridge Books | 701 P Street | Wed, Mar. 7 | 6:30 pm

~Books on sale at the bookstore prior to and after the reading.
Indigo Bridge: You've arranged stories in chronological order, rather than by following individual people's stories from start to end. Do we hear from people multiple times throughout the book or is each entry a different person?
Wendy Pearlman: A bit of both. Some appear only once, some reappear. My first book, a book of interviews with Palestinians called Occupied Voices: Everyday Life from the Second Intifada, included stories or group-conversations with 27 people, each from start to finish.
For this book, I interviewed more than 300 Syrian refugees across three continents and over the course of more than four years. I experimented with different ways of conveying the testimonials that I collected. Ultimately, I thought that the best way to explain the conflict in Syria was to begin with its origins and show how it has evolved over time. Many Americans feel confused about the conflict and don't know where to start, and my own view is that the best way to understand is to start in the beginning. The book's first passage is from Fadi who says, "A Syrian citizen is a number. Dreaming is not allowed." This is a powerful way of describing the experience of living under the authoritarian regime that Hafez al-Assad founded in Syria in 1970. From there, the book uses a curation of testimonials from a cross-section of Syrian citizens to take readers through the chronological arc of the Syrian conflict: from more stories that bring to life citizens' experiences of authoritarianism, the start of a popular uprising in March 2011, its spread and militarization, regime repression and the escalation of conflict to the war, humanitarian catastrophe, and refugee crisis that we see today.
My job, after doing the interviews and getting them transcribed, was to select the voices that best conveyed that bigger picture, choosing stories and memories that could help readers understand what happened in Syria and get some window into what it felt like to live these events.
IBB: If people are touched by an individual story, are there resources for finding out more about them or helping them specifically?
WP: Not for most people. I had to balance the desire to tell real, personal stories and the primary obligation of respecting my interviewees' privacy and not doing anything that could put them at risk.
My book does not represent all Syrian voices. However, it represents a slice of Syria, and millions of other Syrians have experienced the kinds of things that the people in my book describe. And other Syrians are also giving voice to those experiences in so many genres: filmmaking, art, creative writing, satire. There are limitless ways for Americans to hear more Syrian stories and to learn out more about Syria. I hope my book can be an introduction, and will motivate people to learn more. Beyond that, I hope it will move them to do something in solidarity. Doing anything on behalf of peace and freedom in Syria would be helping the people you'll meet in this book. They would be happy to hear that someone was so touched by their story that they helped someone else in need.
IBB: Have you seen this kind of response from readers?
WP: For sure, and that's the most gratifying thing for me. Brutal violence is occuring now, as we speak. People are being bombed from air or being starved or tortured in prisons. The Assad regime is preventing UN relief convoys from reaching besieged civilians or allowing the same civilians to obtain medical care, so people are dying not only due to violence but also due to treatable diseases because they are denied access to basic care. The situation in Syria is a nightmare, and it's urgent that the world do something to end this war. I wrote my book in the hope that it could contribute to raising awareness and empathy, so people are moved to care.
IBB: What concrete action can people take?
WP: The US has largely stood back while the Assad regime, with the help of its allies, have committed atrocities in Syria. After WWII, there emerged the slogan "Never again." That is, never again would the world allow such crimes against humanity. But they've happened again in many other countries, and they're happening right now in Syria. We are witnessing it happen, in real time. Crimes in Syria are documented day in and day out. No one can say that they didn't know.
I think America and Americans should use every kind of influence on behalf of protecting innocent civilians. This means that we need to pressure our leaders to do more, to contact them to say that we're outraged with the killing and want the US to play a more active role in bringing it to an end.
Many organizations put forth specific ideas for things ordinary people like you and me can do. I'd recommend checking out The Syria Campaign, which has frequent calls about ways to get involved. And this is a great "starter guide" for citizen action.
Foreign policy is developed at the national level. But even local activities can be a way of communicating to our leaders. Our representatives ignore issues if there isn't a public demand for action. War crimes are happening on our watch, and we have a duty to voice our concern.
(Blog author's note: Nebraska sanctioned South Africa over apartheid in 1983. Several other states followed our lead.)
We can also make donations to the organizations doing amazing work in Syria or with Syrian refugees. Some of the organizations I donate to are the Karam Foundation, the Syrian American Medical Society, and Women Now for Development.
Closer to home, Americans can get involved with refugees in their own communities. We can do what we can to support them as they restart their lives in the US.
IBB: If you could choose one quote for the entire world to see, what would it be?
WP: It's hard to choose, but if I had to, it would be the passage that opens the last section of the book, dedicated to Syrians' reflections on what they've lived. It's these words from  a young man who goes by the name Abu Ma'an:
"We know that freedom has a price. Democracy has a price. But maybe we paid a price that is higher than freedom and higher than democracy. There is always a price for freedom. But not this much."
I found this particular young man's story so moving, that I wrote an entire article just about him. In the book, I was able to include from his story only that short quotation. He conveyed Syrians' sense that, when they rose up against an authoritarian regime, they knew that they were risking their lives and some people would die. But no one could imagine this level of devastation:
Half a million people dead
More than half the population of 22 million displaced
Tens of thousands forcibly disappeared
The country turned to rubble
IBB: You spoke directly with people using Arabic and no translator. When did you learn Arabic?
WP: I've studied Arabic for over 20 years. I spent a college semester abroad in Morocco. It was my first opportunity to travel outside of the US. I had no background in the Middle East and didn't even know the Arabic alphabet. I started studying there, got hooked, and have been studying and traveling in the region ever since. Over the past two decades I've spent months or more in Egypt, Lebanon, Turkey, Jordan, Israel, and the Palestinian territories. I was able to go to Syria before the conflict began in 2011, but for this book did all of the interviews with Syrians outside Syria.
IBB: Why was first person testimony the lens you chose to look through and write about?
WP: I'm a professor of political science, and I've always been especially drawn to the human experience of politics: how ordinary people's lives are shaped by who has power and how it's used and who doesn't or is excluded from power. Politics can make people's lives good, and enable them to fulfill their aspirations as human beings. Or it can make life unspeakably terrible.
As I prepared to write a book about Syria, I asked myself, "What was the kind of book that could best explain Syria to outside audiences, and also move them to care?" I was convinced that these human stories provided a unique window into Syrians' experience. Syrian citizens express who they are, what they want, what they've endured. They talk about their hopes, dreams, fears, achievements, courage, love, pain, loss. These stories show what is at stake in Syria, in intimate human terms.
I was privileged to be able to travel around the world and talk to Syrian refugees. If you were able to do the same, these are the kinds of things you'd hear. That's what I tried to capture in this book. I hope readers experience what it's like to listen in on a series of conversations with dozens of Syrians across time and space.
IBB: You're touring across the US. What made you choose Lincoln as one of your stops?
WP: I grew up in Lincoln! I was there from ages 10 to 18 and graduated from Lincoln Southeast. I was very active in Amnesty International Local Group 173 and helped found an Amnesty chapter at Southeast. So Lincoln is where I first became interested in human rights, and that's the origins of the passion that has driven my academic career and also what inspired me to write this book.