JANUARY 6th, 2018 
Faces of Indigo: Dennis Diestler
Faces of Indigo is our newest Blog series that spotlights the community folks who have kept us going for the last ten years. To kick off the series, meet Dennis Diestler, a long-time customer who makes Indigo Bridge his office, meeting space, and the place to puzzle over numbers with a cup of fresh brewed coffee.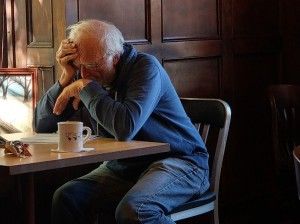 Where were you born and raised?
"I was born in Ames, Iowa and raised until age five or six when my father got the idea to move his family to the West. So, my formative years were spent in Arizona and California, primarily in Phoenix and in Pasadena."
When did you arrive in Lincoln?
"November 1, 1992."
Why do you remember that date so distinctly?
"That's because my wife and I packed up on Halloween of that year, I very distinctly remember, and drove from our previous house in West Lafayette, Indiana to Lincoln."
Why Lincoln?
"My wife was from Lincoln… and she had an ailing mother still living in the family home in Hickman who was needing constant attention. That need coincided with our desire to turn a new leaf over, you might say. Lincoln became the obvious choice."
Did you begin teaching at UNL?
"No, I cooked up a position there in my field, with the help of another faculty member in the Department of Agronomy. I acquired a research position. I never really taught here. It was an unconventional, sideways move from Purdue, where my wife and I were on the faculty."
What do you do when you're not in the bookstore?
"Every day, I spend most of my time in intellectual pursuits. Either working on the problems in physics—which is my field: theoretical physical chemistry, and that work is being carried out now in collaboration with German scientists in Berlin. I make a couple of trips per year to Berlin to consult with my colleagues. Other activities include biking for pleasure around Lincoln. Mostly however, I'd say reading in science and philosophy. My reading habits are drifting toward philosophical topics.
"I should tell you that recently, in cooperation with a friend here, we have formed a writers' group with the  intention to join together persons who want to write and want their writing critiqued. It's a semi-monthly meeting and Indigo has provided a space for that meeting. We're all very comfortable here.
How long have you been an Indigo Bridge regular?
"When did Indigo open?* I think I may have come from the very beginning."
Coffee or tea?
"I always get drip coffee. I'm very unadventurous when it comes to coffee. Now, however, that we have the coffee card**, I think I will try other drinks."
*Indigo Bridge opened in September of 2008.
**Our coffee card gives one free coffee beverage after the ninth coffee purchase.
Do you bike, walk, or drive here?
"I bike all the time, everywhere in Lincoln, except when the ice comes, then I walk. I try to drive as little as possible. I hate driving and I hate cars and want to get rid of all the cars down here in the Haymarket."
You mentioned your writing group. What other things keep you coming back to Indigo?
"I would say the number one thing is the tolerant, friendly atmosphere: the persons who frequent Indigo, especially the employees, and the ambience created by the structure of the interior. This room [the Wood Room] is my favorite. I always come here because it reminds me of a library. The immediate environment is very conducive to doing the kind of thing I want to do, which is to study here, or write. Not read so much, but calculate. I do a lot of calculating on physics here."
If you had to describe your experience at Indigo in FIVE words, what would they be?
"Stimulating. Tolerant. Peaceful. Friendly. Comfortable."